Communication Ports
For those who would like to open ports to communicate with the outside world, since version 5 of Remote SDR, all communications (audio, video, parameters) are done in https on port 443. This is the port you need reroute to access from the outside.
In the case of 2 processors, for example an Orange pi zero 2 for the receiver and an orange pi zero 2 for the transmitter, redirect 2 external ports (example 60100 and 60101) to port 443 of each. You launch Remote SDR by connecting to the receiving orange pi's address and port.
Other Ports
Ports 8006 and 8007 must be added if you wish to interface with the Gpredict satellite tracking software. You must add port 8008 to communicate with VSPE and Omnirig to connect to external software.
Security
If you open your access to the outside, you must protect access to the parameters and the authorization totransmit. You must change the default access key "1234" with a personal key. It is defined in the /remsdr/AccessKey.txt file. Thus, only the owner of the transceiver can modify and transmit. The listeners can see the settings, but not change them.
Security certificate
Access is via the secure https protocol in order to be able to access the microphone and certain processing functions of the browser. When you first connect, you will get a security alert message because of a self-signed security certificate and not certified by an accredited organization.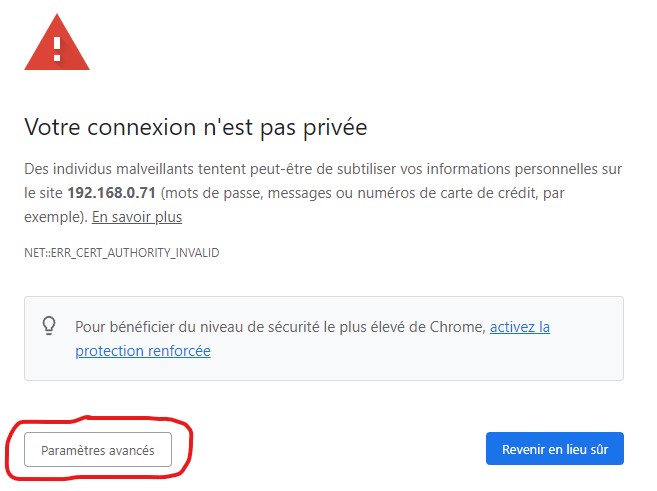 Do not worry and click on advanced settings.

Access through Tailscale VPN
An interesting alternative to get rid of the self-signed certificate is offered by Lieven ON8HZ. It consists of using the Tailscale VPN and its own security certificates. Once installed, the connection to your Remote SDR is perfectly transparent.
Lieven, ON8HZ described the whole procedure here.