Frequencies Management
The video below presents the management of frequencies, drifts of the receiver and the transmitter. In the second part, we review the filling of the parameters of Remote SDR in the "Settings" page.
Frequency drift compensation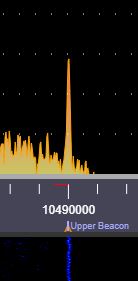 In case of traffic via QO-100, it is necessary to compensate for the drift of the LNB in the antenna. Remote SDR makes it possible to track the high and low beacons in frequency and estimate the compensation to be made. Each time Remote SDR is launched, check the beacon setting and manually compensate if necessary by turning the mouse wheel on the numbers. Then the automatic compensation will do what is necessary.
Be careful though, if the web page is no longer visible, another browser tab is active for example, the images are no longer displayed, the automatic compensation stops.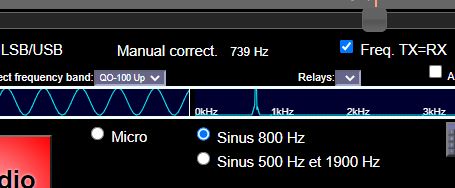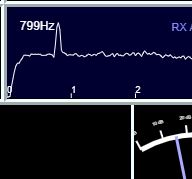 To compensate for any delay in transmission, it is necessary to listen to its signal in return. Switch to transmission and select the Sinus 800Hz generator. Look at the spectrum of the audio channel of the receiver and adjust the "Manual correction" of the transmitter to have an audio signal close to 800 Hz.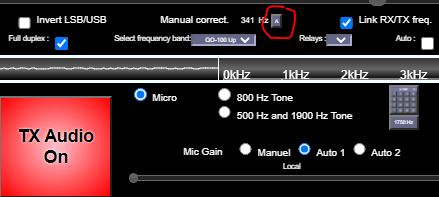 Since version 4.3 of Remote SDR, there is a semi-automatic setting of transmission on reception in SSB. You must have the receiver on, put the transmitter on, then press button A for a long time. A signal at 800 Hz will be emitted, in the reception chain, the frequency of the maximum signal is measured and a correction is applied to the signal transmitter to find an 800Hz signal in reception.
In the video below, you will find the use of the pseudo-automatic compensation system on RX and TX sides.
Adjusting Frequencies
For fine adjustment of the frequency of the receiver, the transmitter, the compensation of the receiver or the transmitter, there are different means:

turn the mouse wheel on the numbers
click on the figures to display a zoom and then turn the mouse wheel or slide your finger above the figures.
For the audio channel of the receiver you can use the left and right arrows on the keyboard. or a rotating knob on USB as described in the hardware section.