QO-100 Satellite Live
Since version 5 of Remote-SDR, it is possible to share its reception channel. You can connect to my transceiver to the QO-100 satellite. Of course, you won't be able to transmit. If you are more than one connected, only one person has the right to control the audio channel in reception.
Preliminary advice
Access to the WEB site
You need a recent browser like Chrome, Edge or Chromium. Don't use Firefox.
Access is via the secure https protocol in order to be able to access the microphone and some processing functions of the browser. On your first connection, you will get a security alert message because of a self-signed security certificate and not certified by an accredited body.
Do not worry and click on advanced settings.

Frequency stabilization
To compensate for the frequency drift of the LNB of the reception dish, Remote SDR locks onto the low and high beacons of the satellite. Depending on the temperature, the compensation to be made is between -140 kHz and -180 kHz.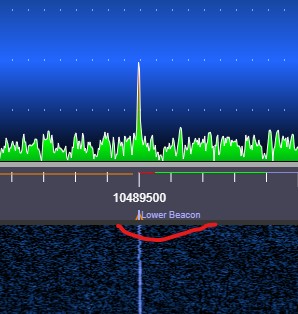 With a good adjustment, the signal of the beacon must be at the vertical of the index. The autocorrection box must be checked for the system to follow the drifts. If the drift is too strong, the signal can be brought manually above the index by turning the mouse wheel above the figure to be modified.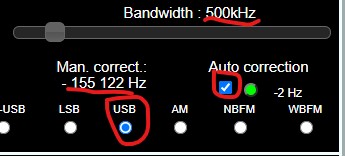 If the correction is good, a green signal is displayed, otherwise blue. If the system is unable to correct, the signal is orange. Be careful, sometimes the beacons are stopped. The middle beacon is not exploited because it is on the centre frequency of the SDR which has an I and Q channel processing bias there.
To optimize the display, select a displayed spectrum bandwidth of 500 kHz.
Pilot
Only one person can drive the audio channel cursor. He is entitled to the green light on "SDR RX Pilot". The other people connected are red.

"SDR RX On" in green indicates nominal operation of the receiver.